MOXIE (SCROLL DOWN FOR PICS OF SIBLINGS)
STARN LEGENDS COURAGE UNDER FIRE BN RN, major pointed with limited showing
co-owned by Stephanie Shope & Anne Shope
DOB: 032014 - EYES CLEAR, FULL DENTITION, SCISSORS, MDR1 AND HS4 CLEAR BY PARENTAGE
Parents are OFA-E, Elbows-N, Eye cleared, Full dentition/scissors, MDR1 N/N, DNA-VP and HSF4 Clear
Moxie is stock instinct tested and continues to well on stock when allowed to be exposed. She'll train on stock and in obedience/rally with the Shope family. She is very clean coming and going with beautiful sidegait . She spins right and left, downs by or away from you, sits, talks on command, backs up, retrieves anything, already does her dumbbell for obedience (takes and carries both the metal and leather dumbbells), is learning to heel and front and finish, and knows her stay and wait commands.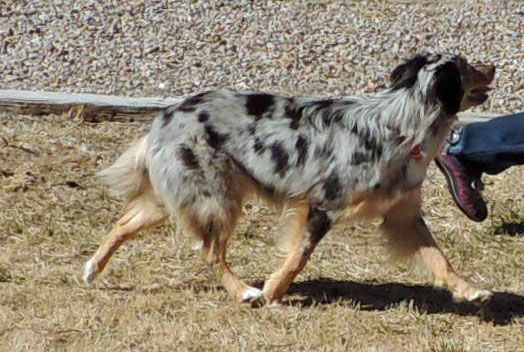 Moxie carries & retrieves both
Moxie loves water & water bottles & is quite the character
SIBLINGS TO MOXIE:
TENACITY is now with Deirdre Luttrell in South Carolina - Starn Legends Shut Up and Drive - She is training in agility.
----------------
JASE is with Megan Sims/Arizona - StarN Legends Unstoppable - Jase had indicated great instinct on every class of stock he's been introduced to thus far. (7 months of age in the picture below) - JASE HAS HIS PT TITLE AND IS THE 1ST TITLED IN THIS LITTER - StarN Legends Unstoppable PT
VIV is with Diana Curl/Arizona - StarN Legends Vim and Vigor (TRAINING ON STOCK AND IN AGILITY AND WILL DO CONFORMATION WHEN MATURE)
---------------------------
DUBLIN is with Travis Grider and Asya Khesin/Washington - StarN Legends Dublin (STOCK INSTINCT TESTED AND DID SUPER)
-------------------------