WELCOME TO LEGENDS and STARN
AUSTRALIAN SHEPHERDS
PROGENY (all our bred-by titled Australian Shepherds and their owners)
LINKS (quick links to registries, clubs, titles, health, clearances, ...)
INTERVIEW WITH SHOPES (over 40 pages in the Australian Shepherd Annual - peruse all issues at this link)
OUR RESUME (Steve and Anne Shope/Legends and Stephanie Shope McDaniel/StarN & Shelby McDaniel) - Legends is Hall of Fame Excellent with ASCA and Hall of Fame with USASA. StarN is Hall of Fame Excellent with ASCA. Steve is a stockdog judge (ASCA and AHBA) and stockdog clinician (US and abroad). Anne is a senior breeder judge and plus obedience (thru open) and rally (all levels) with ASCA. Stephanie is a breeder judge with ASCA (Stephanie is not taking assignments due to ongoing health issues). The Shopes training manuals and videos will be re-released in 2018; at this time none of these products are available.
OUR AUSSIES (those residing here with us in Albuquerque and those foundation dogs no longer with us)
We sold our ranch late 2016. We will miss it very much. Thank you to all of you who visited us there, sent in dogs for training and handling, who attended clinics or doggy camps, and to all who made the stockdog, obedience, & rally trials plus conformation shows held at our ranch such fun. Here's a picture that was on the news during one of our beautiful NM snow storms at our ranch; it is one of our favorites. We are now located in the south valley of Albuquerque where our dogs still work stock and also train to compete in other disciplines. We no longer take dogs in for training and handling, and we're not breeding dogs. Watch for our Stockdog 101, How to Choose, Raise and Train a Puppy, and our Practical Obedience manuals and videos to be re-released in 2018.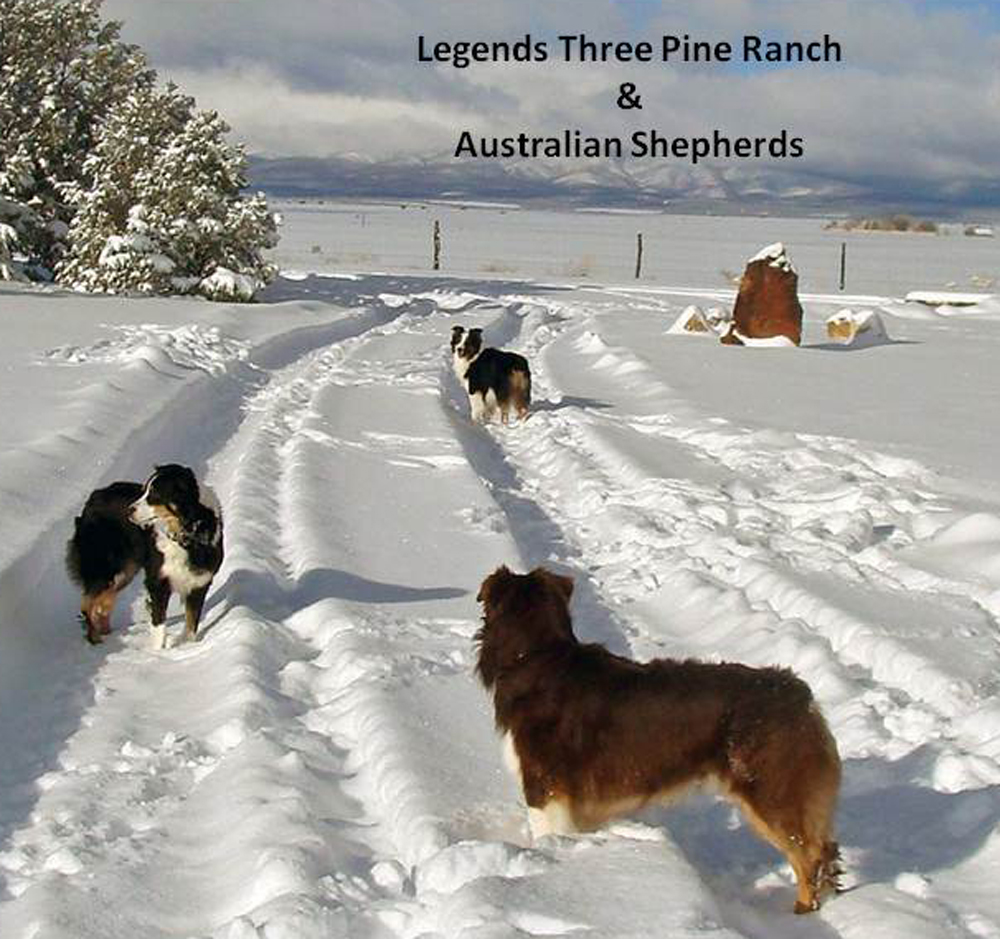 Pictured above: (front) CH Legends StarN King of the Jungle,
(middle) Legends StarN Rite Up My Ally ATDsc OTDd CD RM,
and (top) VCH Legends StarN Max-a-Million CDX RM
THANKS FOR VISITING