GARTH'S OFFSPRING (check back for updates)
GARTH HAS PRODUCED THREE LITTERS - ALL PUPS ARE LISTED BELOW
TITLES THAT PUT GARTH INTO THE HALL OF FAME ARE IN RED. (Thank you, owners!!!!!)
OFFSPRING BY: HOF CH StarN Meant To Be By Testimony RNX CD ......................................
THIS LITTER IS THREE YEARS OF AGE.
Moxie -
A-CH

StarN Legends Courage Under Fire asca RN CD (1 leg ODX)

RMX

(1 leg REMX) plus her akc CD
She's high drive, incredibly smart and atheletic, tough on stock, easy-to-live-with, and has a super fun, fetch play drive. Moxie is Stephanie's best buddy. Moxie is in training for therapy/service work (Stephanie is handicapped, suffering from Lupus). Anne is training, showing and trialing Moxie for Stephanie. Moxie was spayed at age three as we are no longer raising litters.

Moxie's brother, Jase: asca
WTCH

ahba HTCH StarN Legends Unstoppable OFTDscd akc HSIsdc PT (HC/HIT/RHIT awards) ahba HTDIIIgsec (7 champion points) (asca top 10 All stock started; High combined Non-WTCH CO 8/2017! High Combined WTCH AZ 4/2019, merits) owned by Megan Sims, PSR Aussies - asca THREE MOST PROMISING AWARDS 1/2017
Jase is standing at stud at PSR Stockdogs. You can reach Megan Sims/Arizona on Facebook too.
USASA Nationals 2017!! 
8 runs, 8 Qs!!! 
One 1st 
Three 3rds 
One 4th 
Two 5ths 
Reserve High in trial on A/B cattle!! High in Trial Aussie on cattle!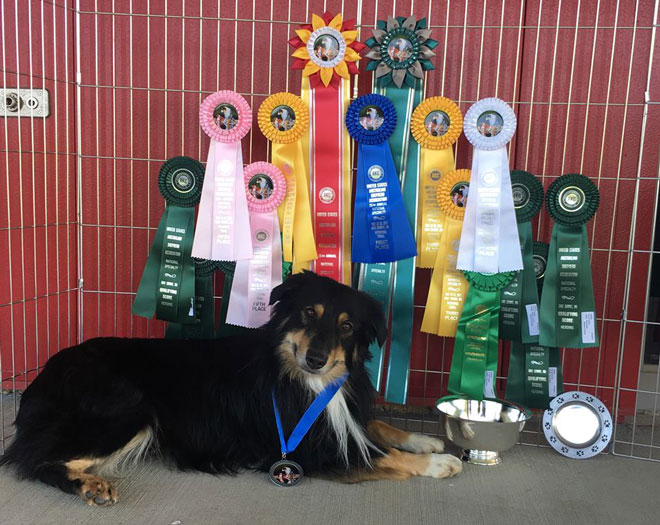 Moxie's brother, Dublin: Owned by Travis Grider and Asya Khesin, Dublin is man's best friend. He was stock instinct tested and did very well.

Moxie's sister, Viv: Owned by Diana Curl, AZ (pet home)

-------------------------------------------------------------
Moxie's sister, Tenna: Owned by Deidre Luttrell (pet home)
StarN Legends Shut Up and Drive (TENNA), akc SCA, SIN and SEN (Scentwork Containers Advanced, Scentwork Interior Novice, Scentwork Exterior Novice). (needs one leg for her SBN, Scentwork Buried Novice, and SWN, Scentwork Novice) . USDAA Starter Standard title.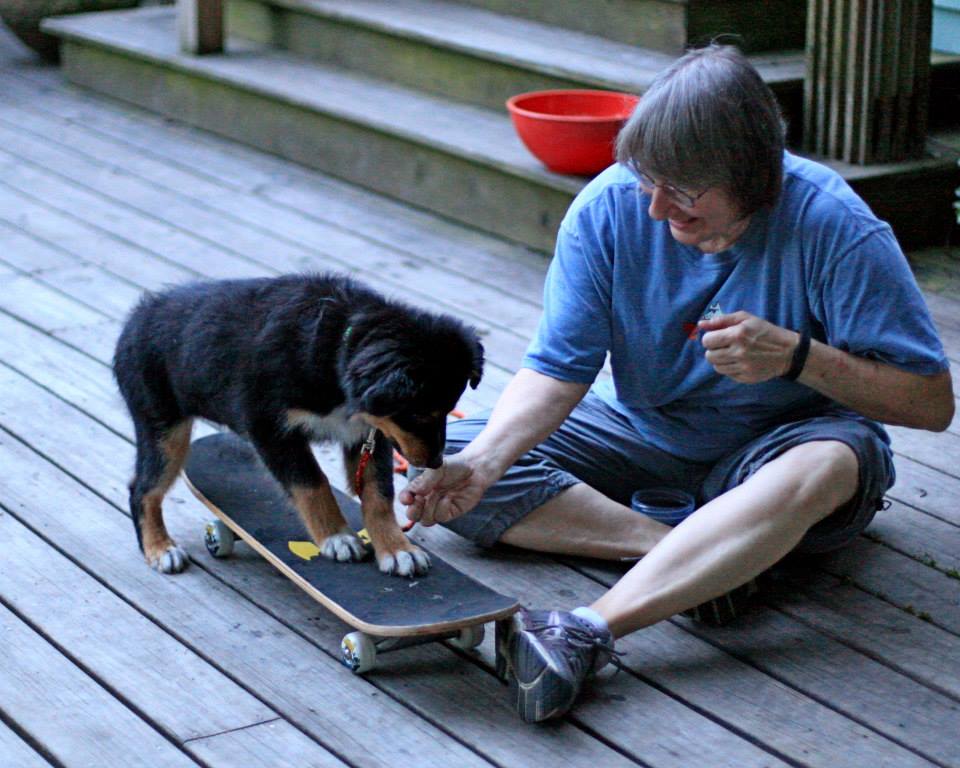 OFFSPRING BY: HOF WTCH Rockin C Priceless Skye Blu Vest ........................................................
THANK YOU, June & Linda, for using Garth as a stud for your gorgeous and talented WTCH Skye. Temperaments in this litter are absolutely awesome and working talent readily evident and proven!
Denim (
WTCH

Priceless Diamonds and Denim, merited in ASCA, finals points for 2018) pictured below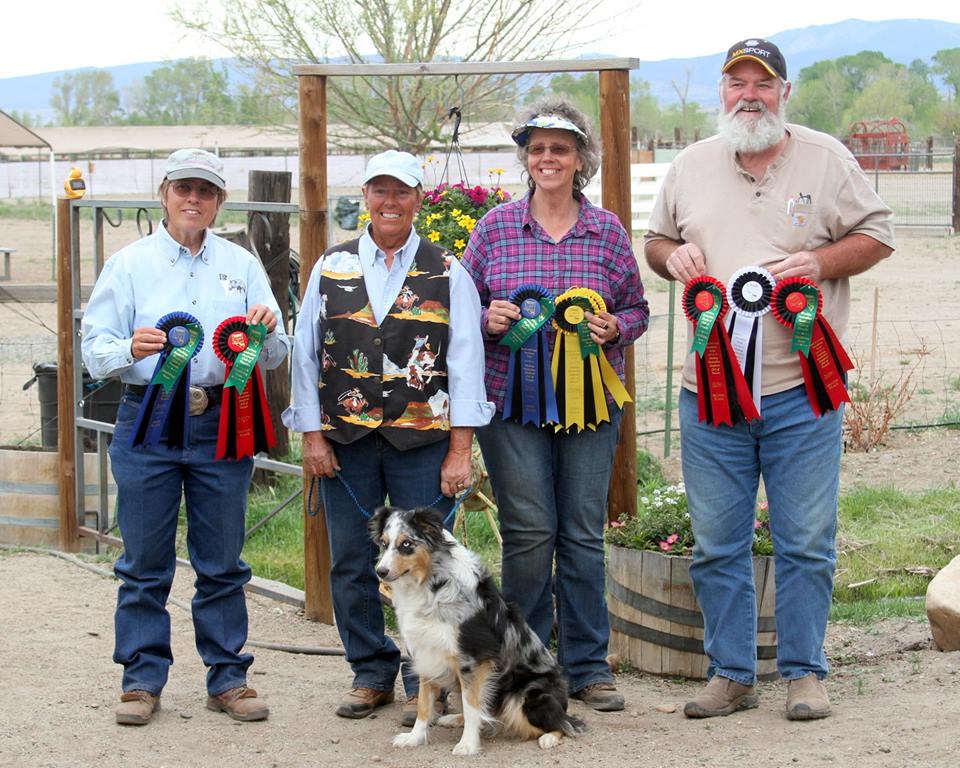 Pictured below is WTCH Denim (2019 FINALS POINTS!) from above with brother Levi (on the right). Both are owned by June Huddleston. Levi is in training for stockwork.

LEVI
Priceless for Sweetness for RockN C (Sweets) ATDsc OTDd, pictured below. Sweets is owned by June Huddleston and Jeri Camputaro. Sweets is training on stock. She also hits heels and heads on cattle. June & Sweets are pictured below training.

Priceless Legends of Creede STDc (1 open cattle leg)
OTDs

d

(

2 Most Promising Started awards, one of which is the Montana Pre-Trial ASCA Nationals 2018)

heads and heels cattle (pictured below): owned by Chuck & Karen Spriggs, FL (training in stockwork)- Creed has picked up AKC trial legs. Creed was nueutered very young, and he consequently grew quite fast and extremely lanky. He's strong on all stock, quick and sound on his feet, and his temperament is A+++. He's being handled/trained by Chuck Spriggs and Dawna Sims.
CREED
Georgia and Star (pictured below)
Priceless Evening Star STDdsc JHD (Star) , owned by Sherry & Larry Darling and Priceless Amarillo by Morning (Georgia)
OTDsc

d JHD owned by Lisa Edwards ... SHERRY AND GEORGIA TOOK HOME THE OPEN BELT BUCKLE FROM THE NEVADA TRIAL, 2019! These two dogs also hit heads and heels on cattle.

OFFSPRING BY: KENZIE (litter bred by Deanna Hartsough, Arizona)..... Heartfire's Sparks Will Fly RS-E, GS-E, JS-O, RN, DNA-VP (TRAINING ON STOCK AND IN RALLY & AGILITY)
Pups from this litter all pick up and carry metal, retrieve and tug, all are fearless with no noise sensitivity, and they love climbing and getting into literally everything and anything. All are clean coming and going with lovely gaiting. All but Amp tested very well on ducks (tester was Megan Sims).
CHECK BACK ON THIS PAGE TO FIND OUT WHO THE NEW OWNERS ARE AND TUNE IN TO WATCH THESE PUPS GROW UP. PICKS ARE NOW BEING MADE ON THIS EXCEPTIONAL LITTER
VOLT, Debbie Perry/CA
VOLT
ZAP, owned by Laurie Kollman Millar, Albuquerque, NM (Zap will train in obedience and in agility)
SPARKS, owned by the breeder of this litter, Deanna Hartsough, Arizona (BOB puppy awards)
SPARKS will train in all disciplines
SPARKS
JOULE, owned by Terri Garvais, Arizona (to do conformation, agility and rally - she will carry metal also)
JOULE
FUSE, Deb & Kevin Falank, NC
FUSE, to train in agility, rally and maybe obedience