GARTH'S OFFSPRING (check back for updates)
OFFSPRING BY: CH StarN Meant To Be By Testimony RNX CD
This litter has recently turned two years of age.
Moxie - StarN Legends Courage Under Fire BN RN (2 legs CD/2 legs RA)
We retained Moxie here at Legends StarN. Moxie is started in obedience and rally training, tested on stock and showing great instinct. She placed 1st in open blue at the 2016 ASCA Nationals in Altered Conformation. Moxie is very correct coming and going, typey and balanced and oh-so-smart. She has a BOB in altered for a 3 pt major. She's been shown very minimally. She's training in rally and obedience with Anne to be Stephanie's service dog; she may be trained and trailed on stock later.

Moxie's brother, Jase: HTCH StarN Legends Unstoppable akc HSIsdc PT (HC/HIT/RHIT awards) ahba HTDIIIgsec (7 champion points) asca OTDdsc (top 10 All stock started; High combined Non-WTCH CO 8/2017!) owned by Megan Sims, PSR Aussies (Jase is training in stock work) - asca THREE MOST PROMISING AWARDS 1/2017
USASA Nationals 2017!! 
8 runs, 8 Qs!!! 
One 1st 
Three 3rds 
One 4th 
Two 5ths 
Reserve High in trial on A/B cattle!! High in Trial Aussie on cattle!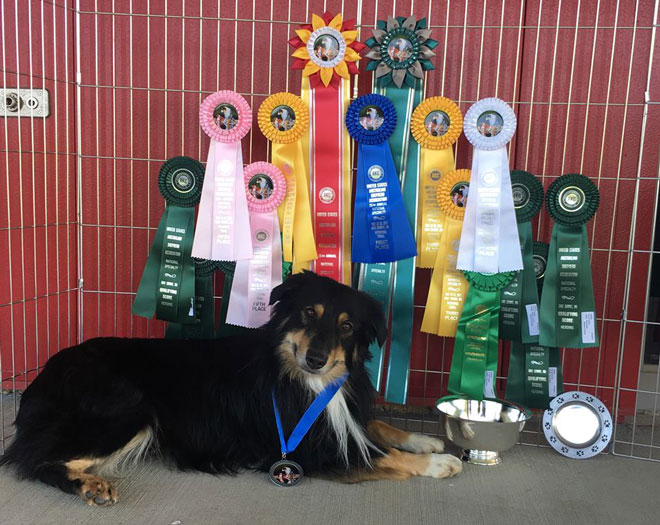 Moxie's brother, Dublin: Owned by Travis Grider and Asya Khesin, Dublin is man's best friend. He was stock instinct tested and did very well.

Moxie's sister, Viv: Owned by Diana Curl, AZ (Viv is training in stock work and agility - picture of her tested on sheep as a young up)

Moxie's sister, Tenna: Owned by Deidre Luttrell (training in agility - cute pic of Tenna as a puppy)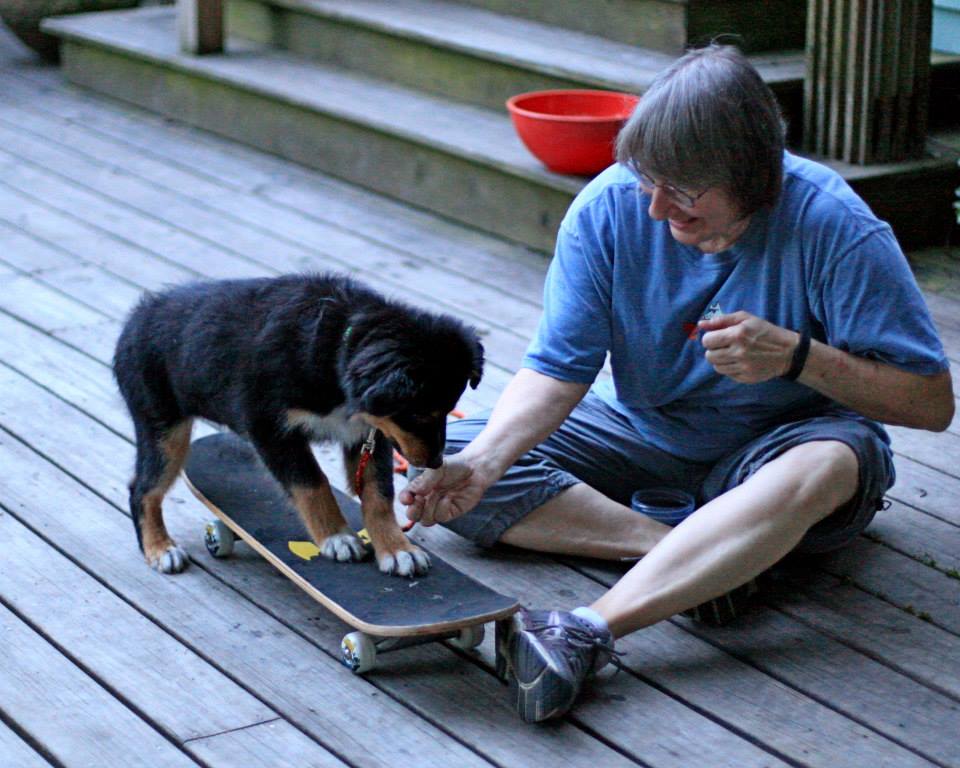 OFFSPRING BY: WTCH Rockin C Priceless Skye Blu Vest
THANK YOU, June & Linda, for using Garth as a stud for your gorgeous and talented WTCH Skye. Temperaments in this litter are absolutely awesome and working talent readily evident.
Denim, on the left is Linda Bruzda's and Levi is on the right and is Barb Moe's (Levi is coowned with June Huddleston).
Denim now has all his started titles (merited) and legs towards his open - he heads and heels cattle.
Levi is in training for stockwork and will be handled/trained by Barb Moe (Montana). Levi is strong on all stock.

LEVI
IDENIM (PRICELESS DIAMONDS AND DENIM OTDd ATDcs, trialed and trained by Linda Bruzda)
Sweets is pictured below and is owned by June Huddleston. Sweets is training on stock. She is very nice on stock and also hits heels and heads on cattle. June & Sweets pictured below.

Creede (pictured below): owned by Chuck & Karen Spriggs, FL (training in stockwork)- Creede is winter-training with Dawna Sims in AZ, having been trained and introduced to stockwork by Chuck.
CREED
Georgia and Star (pictured below)
Priceless Evening Star (Star), owned by Sherry & Larry Darling and Priceless Amarillo by Morning (Georgia) owned by Lisa Edwards ... both earned their JHD titles - congrats, Ladies! These two dogs also hit heads and heels on cattle.