BANDIT
asca HOF VCH WTCH CH
Shope's Goodnight Bandit
asca CDX RTDsc akc CD HS-As HX-Ad DNA
030194 - 103008
"SUFFERING PRODUCES PERSEVERANCE; PERSEVERANCE, CHARACTER; AND CHARACTER, HOPE" ROMANS G:3-4 (NIV)
Our family was loved and owned by one of the very best of God's four-footed creations. Our HOPE is for any of you reading this that you have the opportunity to be owned by such a dog in your lifetime.
Bandit lives on here at Legends & StarN in our Ally. Bandit kissed her goodbye yesterday, and today us. Not a dry eye here ...
Participated in the ASCA stockdog finals several times.
Top ten stockdog finalist in cattle two years running.
Merit Award Winner in ASCA and USASA in working & herding/#16 ASCA VCH/#1 USASA HS
Producer of offspring titled in conformation, obedience, agility, and flyball, participating in therapy and search & rescue work, working on ranches, and being man's best friend. Sire to obedience finals winner and obedience/agility finals quaifiers, obedience/agility merit dogs, BOB specials, MVA top 20, and RWD ASCA Nat'ls.
Most importantly, our very best buddy!!!
HIT HERE TO MEET HIS OFFSPRING
dob: 03/01/94, 22.4", 63 lbs, black bi, red factored, full dentition, scissors bite
OFA good, full dentition, eye cleared, red-factored and MDR1 normal/normal.


)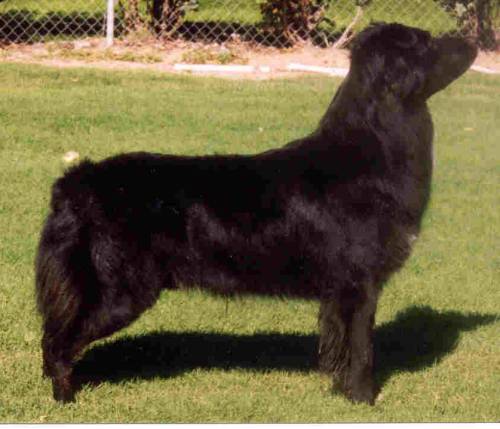 Age 4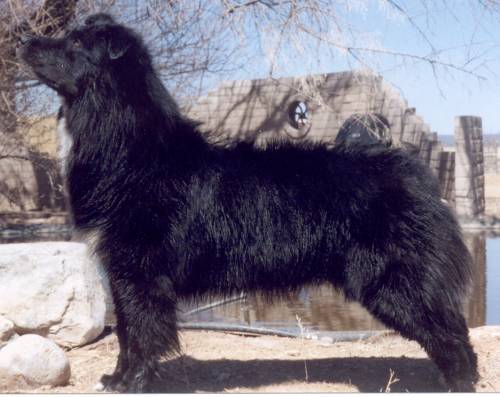 Age 9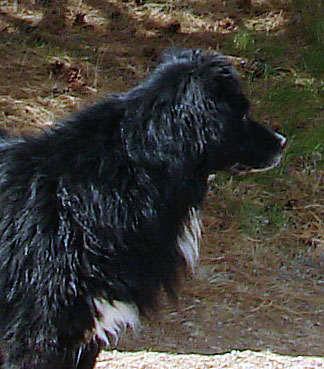 Age 14:)
Bandit was last pick in his litter. His coal black coat and golden eyes stole our hearts instantly. He went through every gangly growing stage one could imagine and emerged one handsome studly dog at 2.5 years of age. Smart, bidable, loyal and instinctive from the get-go, he's proven himself an outstanding foundation dog for Legends, a great pet, an outstanding ranchhand, and a superior producer. He earned his WTCH by age two and finished #5 in cattle at the ASCA Stockdog Finals that same year.
When he was a pup and we were at work, he would gather our tools (literally shovel, rake, hoes) and pile them on the lawn. When we returned each day, there the tools sat in a nice neat pile. They were not chewed on. We're not sure if he wanted us to go to work or just tell he he loved and missed us:)
When waiting to come in the house at our old place, Bandit would stand at the sliding glass door and wait for us to notice him (he never barked to be let in). All you could see was his golden eyes reflecting light and that teeny bit of white on his chest and toes. He has a black undercoat and the most gorgeous black coloring of any dog we've ever seen.
He was going to be Shelby's pee wee dog but all he would do is lick her so much, she could not walk. He adored her but alas was fired as her pee wee prospect.
Bandit loves to retrieve. He'll retrieve for anyone and everyone, kids to adults.
Working ducks came the easiest to him and it was breathtaking to watch him simply move his head to move the ducks. Ducks stuck in the corners simply got a nudge from his muzzle and on they moved. He could pick one up out of a water trough and gently set it down to move it.
When first started on stock, Bandit would take down sheep (whoops). That was quickly remedied and you'll rarely if ever see Bandit nip a sheep to get it to move unless he's working to turn on a young pup. For whatever reason he seems to take a cheap shot just to show off:) He will head cattle when the occasion calls for it. The only time he's heeled cattle was when working chutes from the outside. He's backed up stock one foot at a time with just the use of his golden eyes (see picture below) and presence.
He's been a true friend, loving companion, kinda big lap dog:), and awesome ranchhand. He has the best temperament of any dog we've ever come across insofar as guardian instincts, reading people, reading stock, and being man's best friend. He's a foundation dog for Legends, Hall of Fame for his offspring which have excelled in many venues (check out his progeny page), and a very valued family member here.
We love this black dog. Remember last pick sometimes is the best pick:)
scroll down for his pedigree and a picture of the younger version of Bandit
HOF CH Jubilee's Federal Agent
Windhill's Claim Jumper
CH Lady in Red of Heatherhill
BANDIT'S SIRE
asca/akc CH Sand Ridge Ventana
Midnight Special of Somerset
Viva Las Vegas of Starcross
CH Visions of Fireslide
asca VCH WTCH CH Shope's Goodnight Bandit asca CDX RTDsc DNA akc CD HX-Ad HSA-s DNA
dob: 030194, 22.4", 63 lbs

Bandit is OFA-G, scissors, full dentition, eye cleared annually, red-factored

Bred by: Carol Wilcox/NM

Owned/Trained/Handled by
Steve & Anne Shope


CH Trueluc's Impressive Kid (over 45 BOBs)
Trueluc's Hushup Kid
Trueluc's Smurfette
(produced multi-titled offspring)
BANDIT'S DAM
Wilcoxs Bita Blue Always Raven (working ranch dog)
Wibi Crystal Blue Smoke
(working ranch dog)
HOF Wibi Black Velvet
(producing multi-titled offspring)
Queensland's Sissy
Pictured above in the snow at age 3 - Bandit carried little if any coat until he was about six years of age. His pups are normally slow maturing physically but quick maturing mentally.