HOF BISSp CH Legends StarN Magic Happens STDcs - Karma
(sire: CH Legends Albuquerque Low CD x dam: BISSp BISSA-CH (multi-premier) CH (BOB/BOS special) Legends StarN WishUponAStar Nitani CD STDs - Disney)
SPAYED - As of Spring, 2011, she owns and loves Mark Kitzelman in Arizona
2010 picture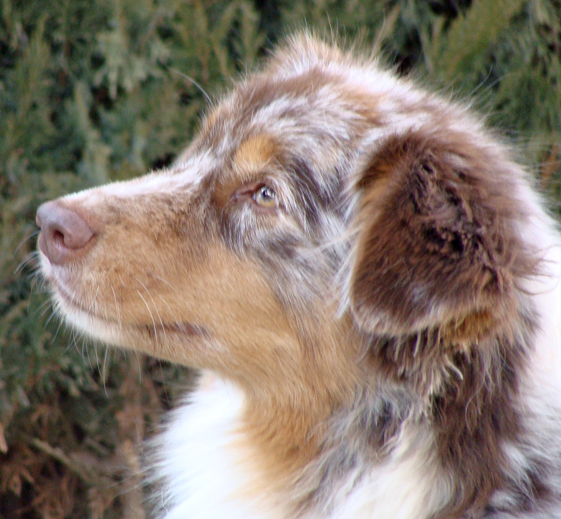 2010 (OUT OF COAT)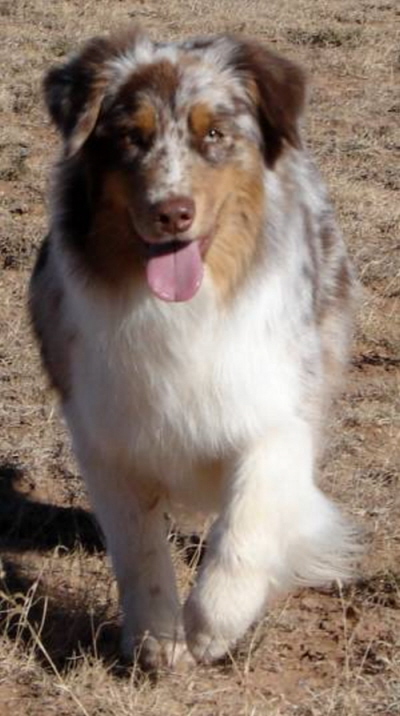 4th place Brood Bitch ASCA 2009 Nationals:)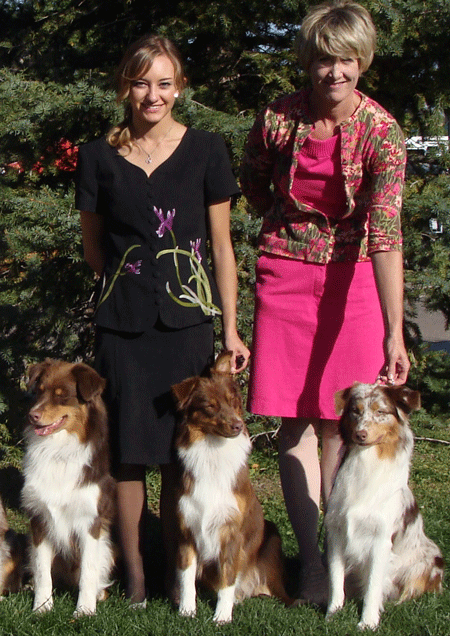 Karma's pups: (pictured as pups above) by CH Billy. They now are CH Simba, Layla (major ptd, Nationals placements), and CH Dharma - - SEE SIMBA'S WEBPAGE for updated pictures of all siblings - Thank you to Kirsten, Julie, Kim, and Amanda for showcasing Karma's offspring at the pre-show (1st place) & Nationals (4th place).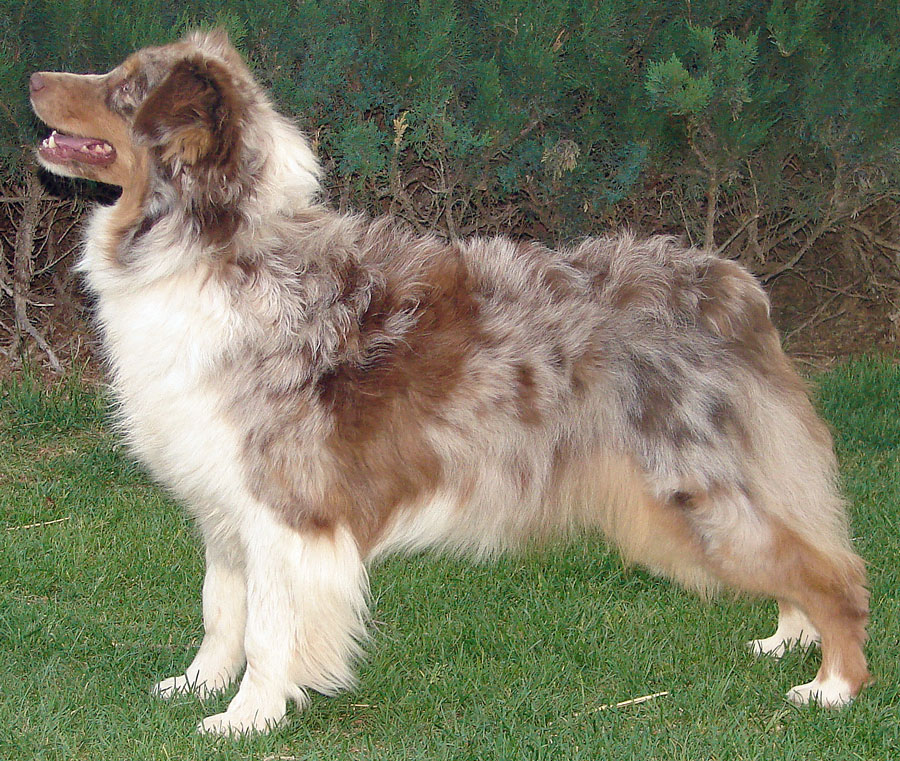 KARMA, approximately age two in this picture
DOB 120504

HIPS

ELBOWS

EYES
TEETH
DNA
THYROID
MDR1
HEALTH ISSUES

COI: 12.01%

OFA good

Elbows Normal

Cleared

Non carrier of the Cataract Mutation HSF4

Full

Scissors

Verified
Normal
Normal/Normal

None
HONORS:
Best of Breed Puppy in Sweeps at the USASA Specialty AKC show 2/16/06 in Colorado under Judge Heather Steyn DVM :)
4th place Brood Bitch ASCA Nationals 2009
Most Promising Started Aussie Lobo ASA July Trial 2009
KARMA'S KIDDOS:
by: CH Old West Bandit of Heartfire - SEE SIMBA'S WEBPAGE FOR THIS LITTER
CH Legends StarN King of the Jungle (Simba) - visit Simba's webpage to see pictures of all siblings
Layla has a 4 pt major & a 3 pt major and too many reserves to count anymore ... Two 1st places at the 2009 ASCA Nat'ls Pre-Shows. Layla took two 1sts and a 4th in the preshows at the ASCA Nationals. Layla is owned by Mark Kitzelman.
CH Legends StarN Heartfire Dharma - Dharma took a 3rd place at the 2009 ASCA Nat'ls Pre-Shows:) She came screaming close to placing at the ASCA Nationals and also in one of the preshows. Dharma is owned by Julie Humeston of Heartfire.
Maya made the cuts in the pre-shows for her huge intact classes. Maya is now spayed and has 12 breed points/2 majors (all earned her 1st weekend out). ATCH V Legends StarN Destiny's Child asca JV-E GV-E RV-E akc OJP OAP OPF usdaa PR1 OS1 nadac NAC NJC plus more titles I need to update in other organizations (merited ASCA), owned by Ken & Linda Shoemaker (the veteran)
Mojo, owned by Kim Waldron, A-CH Legends Starn Magic N Motion, top 10 altered conformation stats - Premier A-CH awards
Legends StarN SirHector akc CDX asca UD (won the open obedience finals at the ASCA Nal's) RN, owned by Trudy Carter & family
by: VCH CH Legends StarN Max A Million CDX RE OTDc ATDds
Legends StarN A Study in Blu RN CGC (Watson)
Legends StarN Gentleman Jym RE CD (merits obedience/rally)
Legends Starn Devil In A Blue Dress - Multiple RWB awards to majors plus one 4 pt major (WB/BOW), major pointed in conformation - owned by Janine Kester and Liz Busquets (PICTURED BELOW)
by: CH Heartfire's Thief in the Nite CD ATDds STDc - SEE CALEB'S WEBPAGE FOR UPDATES ON SIBLINGS TO THIS LITTER
ASCA CH UKC GRAND CH (CKC pointed; AKC multiple RWD to majors) UROX UROC URO3 Legends StarN Divine InterventN asca STDs CD RNX RAX REX, akc BN CD RX CGC (Caleb), multiple BOB and BOS puppy, owned by Michele Radloff- Caleb will train in obedience, rally, and stock
Ember - Legends StarN SizzlN SensatN, multiple BOB and BOS puppy, owned by Jessica Carson, AZ - Ember is in a pet home
Cord - Legends StarN Cordovan Cowboy CGC JS-N (other agility legs), training in multiple disciplines, owned by Staci Lemke (THERAPY CERTIFIED)
Legends StarN Straight Shooter asca/akc UD, UDX legs ((#3 ASCA NOVICE FINALS) JS-E GS-E RS-E OA OAJ akc UD MX asca UD (Arrow), owned by Mary Bente (Arrow is training extensively in obedience and some in agility)
Legends StarN Chuckie akc UD, scores above 196/3HITs) plus 2 legs ASCA CD (scores above 197) (Chuckie) , owned by Laurie Kollman (Chuck is training extensively in obedience & some in agility and/or tracking)
REPEAT BREEDING: Updates a'com'n as these mature
RTCH CH Legends StarN Scenic Outlook RNX RAX OTDd ODX, qualified for MVA ASCA Nationals 2013 - owned by Corey Norman
Legends StarN Kestral asca TD akc TDX , owned by Anne Hershey
Lark - Legends StarN Just For a Lark JS-E RS-E GS-E STDs, owned by Warene Waters
Mahalo (pet) owned by Vicki Schneider, Grazie owned by the Jim Lindeman Family (pet/ranchhand)
Shein - CH Legends StarN Heartfire Danke - SHEIN TOOK 2ND IN THE TOUGH RED MERLE CLASS AT THE CALIFORNIA ASCA NATIONAL SPECIALTY owned by Julie Humeston
sibling to:
by: CH Legends Albuquerque Low CD
ATCH-VIII MACH Legends StarN Outlaw JesZ CGC asca CD AX AXJ OF EAC NCC NJC WV-N RS-E-OP JS-E-SP GS-E-SP AD SS akc RE - '08 USASA Nationals placements, USASA Merits in Rally Novice, ASCA agility 2009 & 2010 FINALS QUALIFIER! Thank you Raymond Hodel & Stacie Santa Cruz!
half sister to the following by sire CH Heartfire's Monster Bash:
asca CH BOB special Ariel
akc G-CH & asca CH special Dale DALE IS ALSO A GRAND CHAMPION PRODUCER
Karma is a big time kisser. There is not a toy or ball she won't fetch. Her stock instinct is excellent; she has begun serious stockdog training and she is a natural:). Karma is a willing-to-please obedience student and should excel in that discipline. She's a part time housedog. Moderate, well muscled, atheletic bitch who gets along well with all dogs. We have retained her son Simba, who was a breed champion at 11 months of age. Karma is a linebreeding on our VCH WTCH CH Trueluc's Misty Blus Shope's lines. Karma is pretty much a replica of our Misty in attitude - we absolutely adore her.
PEDIGREE: courtesy of http://www.hrdndog.com




Pedigree of:


[KARMA]
Ch Legends Albuquerque Low CD (littermate to MACH Legends Rio Grande, CH Legends Irish Rose, Legends Red Heart Snatcher CDX) DNA-VP
Red Merle C/W AS-14744G25M-T F=10.09%
E96925 DL74518608
5/19/1998
Ch Windogos Red O'Sonny Boy CD STDcds DNA-CP, championed at 8 months of age
Red C/W AS-11194E24M F=9.49%
E76751 DL61094506
9/4/1995
Ch Merribrooks Cutting Edge
E68488 DL54095602

HOF CH Agua Dulce Final Option DNA-CP

Ch Windogos Sweet Success

The Bees Knees of Windogo
E57715 DL43775801

HOF SVCH WTCH Ch Beauwoods Rustlin'in the Sun UDT RD RV-N DNA-CP

Ch Cats Meow of Starcross

Trueluc Fright Night Tazzie CD STDcds DNA-CP(littermate to VCH WTCH CH Trueluc's Misty Blus Shope CDX)
Blue C/W RF AS-10116G24F F=6.76%
E71139 DL54916604
9/15/1994

HOF Windogos Bust Loose of Trueluc
E53307 DL42964202

HOF Ch Jimmee Blue of Adelaide CD

HOF CH Windogos Southern Belle

Truelucs Razzle Dazzle
E60700 DL50698101

Ch Down-Under Hes Cool of Trueluc

Ch Truelucs Touch of Class

BISSp & BISS A-CH, CH Legends Wishuponastar Nitani (DISNEY)
CD STDs (littermate to CH Nitani's PlayN wFire of Legends, Legends Blue Moon of Nitani NA), BOBp ASCA Natl's, BOB A-CH ASCA Nat'ls Pre-show,Black C/W AS-19525G24F-PI F=7.86%
E122021 DL90804902
5/17/2002

Ch Legends Rx 4 Success DNA-CP (littermate to HOF Legends Copper Canyon Watch Me CD, CH Legends Three Times a Lady STDs CD)
Blue C/W RF AS-13064G24M-T F=9.30%
E88589 DL68097207
3/18/1997
asca/akc Ch Windogos Johnnie Walker Red, #5 all-breed AKC
E49944 DL41106203

Ch Feel the Fire of Heatherhill

Windogos Back To the Future (14 pts, deceased)

BISSv VCH WTCH Ch Lady Claugene Shope CDX RTDcs ROMI DNA-CP, ASCA Nat'ls BOB Veteran
E65240 DL51329008

Truelucs Reflejos De La Noche

Zuzaxs 2 Know Me Is 2 Love Me

ROMXIII BISS CH Ferncrofts Ball of Fire CD RE AX OAJ DNA-CP, USASA Nat'ls BOB (champion siblings)
Black C/W RF AS-11465G24F-T F=9.73%
E80800 DL62377604
11/28/1995
HOF CH Caledonias Crowd Pleaser ROMX
E47779 DL43626701

HOF CH Jimmee Blue of Adelaide CD

Ch Butterfields Silky Suzann

AKC CH Propwash Confidence
E46276 DL42590102

Ch Propwash St. Elmos Fire

Propwash Lo And Behold CD
pedigree courtesy of http://www.hrdndog.com (updated by Legends Starn)
Reserve Winners Bitch her 1st time out in AKC:)