BISSv VCH WTCH CH Lady Claugene Shope CDX RTDsc HS-As ROMIp ROMIIo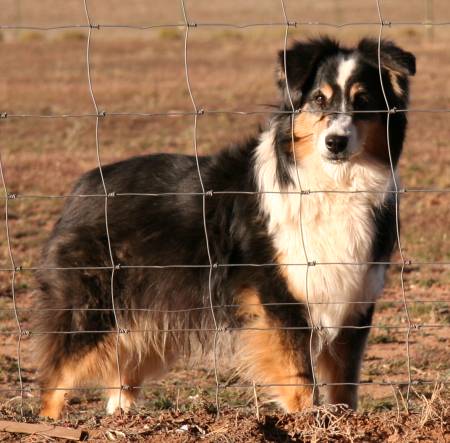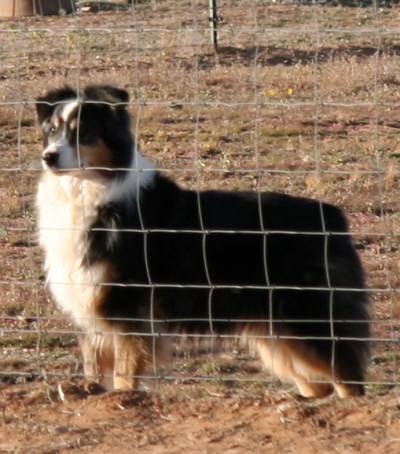 Once in a lifetime along comes a dog smarter than most humans, certainly more loyal than most humans, possessing more heart than most humans, and who becomes a soulmate to a select few. Claugene held all our hearts here at Legends & StarN always without reservation or qualification close to hers. We thank God for allowing this incredible Australian Shepherd to spend her life with us and us to spend our lives with her.
123193 - 100107
OFA-Good/Eye cleared annually to age 9/Full dentition/Scissors/Thyroid cleared twice-normal, Spayed
Claugene was our foundation bitch for Legends & StarN. As you scroll through our website, look for the dogs we have personally retained that are related to her: Winnie (HOF) , her grandson VCH Max (HOF VCH brother Pulley owned by Betty Jaco) (by Winnie), Star (now in a living assisted therapy home), her granddaughter BISS A-CH BISSp Disney (retired after an awesome specials career), her great grandedaughter HOF BISSp CH Karma, her grandson CH Caleb, AND MANY MORE
Claugene has a son with over 70 titles on him and a grandson with over 70 titles on him. Congrats to Lucas & Jesse!
HONORS:
Several High in Trial Obedience Awards
AZ Silver Specialty Belt Buckle Winner (High Combined Stock)
HOTASC Pre Show Altered Premier under BJ Gail Karmelogos
HOTASC Pre Show Best of Breed Veterans under PBJ Dorothy Montano
UMASC Pre Show Altered Premier under BJ Joni Johnson
NATIONALS Best Of Breed Veteran under SBJ Lori Acierto
NATIONALS Altered Premier under SBJ Richard Pittman
EARNED HER VERSATILITY CHAMPIONSHIP AT AGE TWO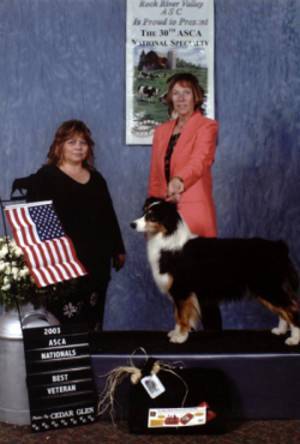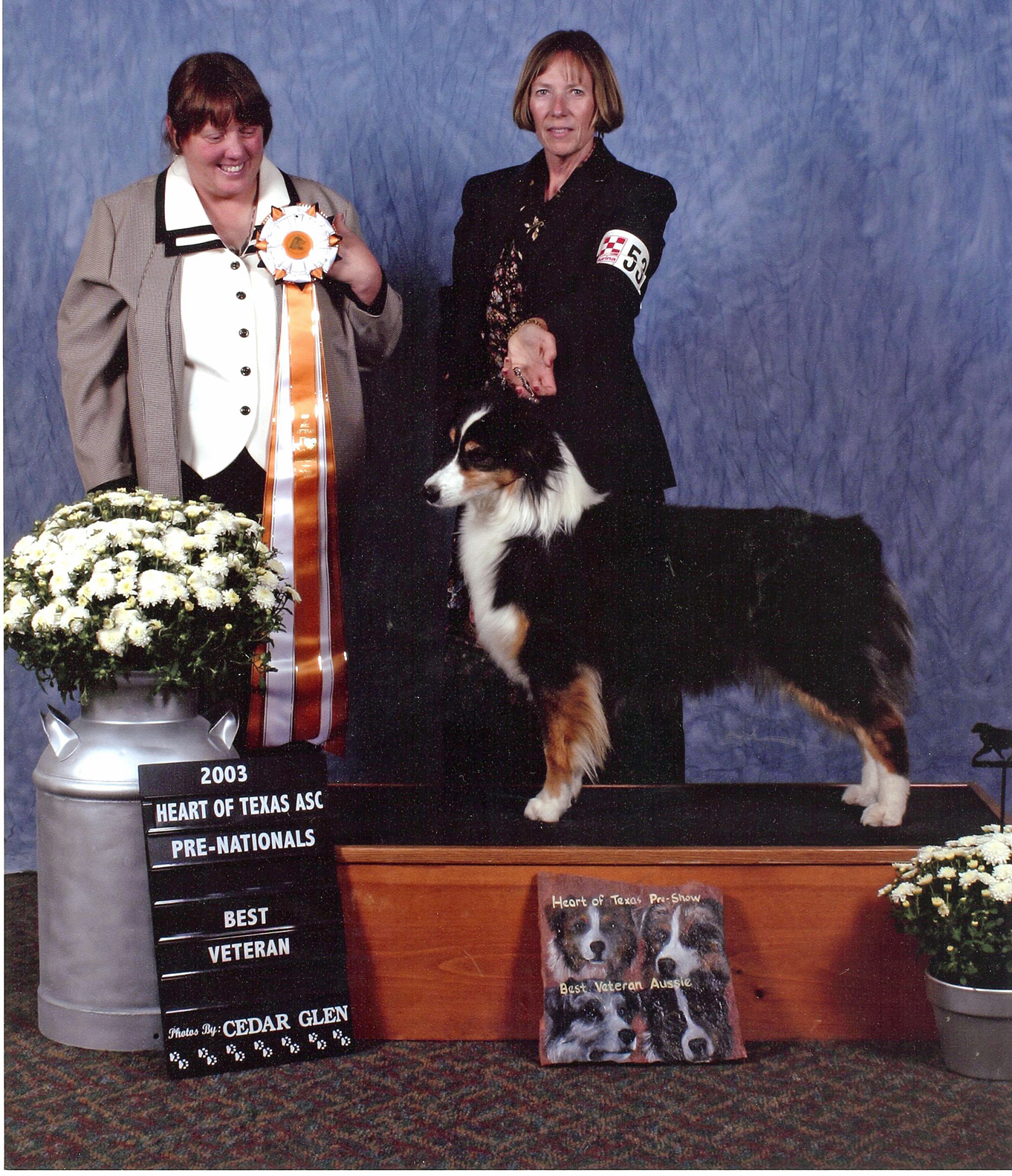 Best of Breed Veteran at the ASCA Nationals
Claugene was raised with an alpha bitch that nipped people from behind and picked on Claugene. That bitch (China, our first purebred Aussie who picked up her asca/akc CD and STDdsc while with us) was subsequently placed in a one-dog home on a remote ranch:)
Claugene was rocked by school kids when young and teased by teenagers in a park nearby to our old place; she didn't like children at all and wasn't too sure if all adults were trustworthy. Later when our granddaughter Shelby came along, she learned to love kids. Claugene is absolutely crazy about our Granddaughter Shelby and loves sharing her stuffed toys. Claugene has been known to rock a tall dresser to knock off her favorite stuffed toy.
Claugene is a big time tug-a-war lover and avid retriever. She doesn't shred or tear up toys but she has been known to kill a squeaker in a toy. She has a huge vocabulary. Upon request, she'll find her toys, sniff out a lost object, take a jump, or look for a missing family member:) She loves a job!!
She's a licker and doesn't mind holding your hand down to be sure it's nice and clean. She's a nosenipper/kisser and she's fast about it cuzzz she knows she's not supposed to do it. She can pinch with her feet. She has one heck of a grip with those toes of hers and sometimes intimidates people upon her approach. She'll guard the ranch but has never presented any problems to any ranchsitter we've hired. They have all played fetch with her and adored her. She can be protective also of our crate set up area at dog shows. When sitting in the crowd, however, she loves everyone around her. She treats people as they treat her and she's never been wrong in judgment of any person thus far:)
She is protective of her litters but nice once the pups are about 2.5 months of age. She can play with any pup new to our kennel and be gentle and loving. She is dominant with adult dogs. She prefers to rule the doggy roost - she had to split that honor with our VCH Misty which she did grudgingly (as did our late Misty).
She's the smartest dog with the highest learning curve we ever come across since being in this breed. She came to us at the ripe old age of 6 weeks and she's giving us a lifetime of love and happiness plus a super foundation for our kennel.
Scroll down for her pedigree and to meet her offspring.
Please email us if you have any genetic questions on her offpspring.
We love to hear from owners of her offspring, grand and great-grand children!

CH Red Banks of Paradise of Trueluc STDsd
CH Trueluc's Impressive Kid (over 45 BOB asca)
CH Trueluc's Touch of Class
CLAUGENE'S SIRE:
Trueluc's Reflejos De La Noche (multiple rwd/RETIRED PET)
Picasso Blue of Hazelwood
Trueluc's Smurfette (producing multi-titled offspring)
Briarbrooks Crystal of Trueluc

LADY CLAUGENE SHOPE

Bred by: Ben & Peggy Aragon/NM

Owned/Trained/Handled by
Steve & Anne Shope

HOF CH Sand Canyon's Coup De Main CD
CH Odyssey's Strikeforce of Zuzax (close to HOF)
CH Keepsake of Windermere
CLAUGENE'S DAM:
Zuzax's 2 Know Me Is 2 Love Me (rwb/RETIRED, SPAYED PET)
CH Space of Windsor CD STDsch OTDd
Odyssey's O Me O My of Zuzax (producer of CH offspring)
HOF CHOdyssey's Karma CDX
by asca/akc CH Windogo's Johnnie Walker Red (My Favorite Cross for Claugene)

asca CH Legends Rx 4 Success (13 points, 2 majors AKC) DNA-CP, we kept our Disney from our Doc x Haley breeding, champion producer, great temperament and attitude. Unfortunately, Doc acquired an agressive cancer at age 11.

asca CH (9 AKC pts) Legends Three Times a Lady asca/akc CD asca STDs DNA-CP, spayed/never bred, ASANM MVA Land of Enchantment Show MVA, also top 20 obedience ASCA, wonderful temperament

ASCA HOF Legends Copper Canyon Watch Me ("Winnie") asca/akc CD, pointed ASCA, RWB AKC, retired/spayed, produced champion, stock, obedience and agility titled offspring plus finals qualifiers and merit winners, mva winners, we kept Max & Star by our Winnie. Winnie was a favorite amongst our ranch visitors and show comrades. Winnie went on thyroid pills at age 11 (low dosage).
Legends Walking to Heaven, major pointed ASCA, retired/spayed, produced MVA winning, champion, stock, obedience titled offspring, awesome temperament.
Legends Lady, killed/ran over prior to age two, terrific temperament.
by HOF asca/akc CH Zuzax Coupzax (linebred cross)

Legends Chloe Coupzax asca CD one leg CDX, akc CD RS-N RV-O JV-O GV-O GS-N NAC NGC TN-N OAJ JS-N NJC NA NF RN, spayed/never bred, some dog aggression, a people lover

Legends Whisper in the Night CGC asca CDX, two legs AKC CD RS-N JS-N NAC NJC NGC GS-N RS-J JS-J JAC JJC RS-OJ JS-OJ JJ-E, 6 A-CH points Producing agility titled offspring, awesome temperament

Legends Pretty Woman akc CDX, spayed, NEVER BRED, some dog aggression, a people lover

Legends Paws for Applause asca/akc CD, immune suppression (put down under age two, VHK), THIS WAS OUR DOG, perfect temperament

Legends Bright Light Sankano (We have no feedback on her offspring)

Legends Designated Driver, neutered pet (broke his leg as a puppy and never moved correctly after), NEVER BRED, perfect temperament

Legends Over the Rainbow ("Beau"), nuetered/NEVER BRED, some dog aggression
by asca/akc CH WTCH Kansaquest's Chances R CD

Legends Log-On at Karpe Diem DNA-VP CGC STDs, 9 akc points & major pointed asca, OA OAJ (elete standard jumpers leg),ofa good, elbows normal, eye cleared, full dentition, scissors, thyroid normal (neutered '06/never bred), awesome temperament

Legends Cafe Latte STDs JS-N nadac NJC 2 legs asca CD (pre-show Nat'ls placement), spayed/never bred, could be protective of those she loves

Legends Chance w/Hanky Panky asca/akc CD asca STDsc DNA-VP, neutered/never bred (retired here at our ranch after living six years at a working cattle ranch and hunting ranch in Raton, NM) - Hank's owner didn't want him anymore once Hank grew old and he returned him to us. Hank died here at the ranch in 2009.
74 titles & now officially retired:) - our most titled Australian Shepherd to date is Lucas below (thank you owners Stacie Santa-Cruz and Ray Hodel/NM):
ATCH-OP ATCH III Legends Hi-Rollr Lucky Lucas CGC asca/akc CD akc RAE AX AXJ MJP MXP OFP EAC EJC ECC TN-E TG-E WV-N V-EAC RS-E JS-E GS-E RV-E JV-E GV-E PD2 PS2 EFP MJP2 - Lucas earned merits in USASA '07 & '08; earned 1st places at the USASA '08 Nationals; #13 Veteran ASCA National Agility Finals'08, qualified for the '09 ASCA Nat'ls, training in tracking and trained thru his CDX

Legends Little Lady of Chance RN CGC, multiple WB/BOS-A asca - one major in altered conformation, spayed/never bred, thyroid borderline, some temperament issues

ATCH Legends Kiss of Cream CGC NA NAJ JS-E RS-E GS-E, spayed/never bred, on thyroid meds, some temperament issues, qualified for the '09 ASCA Nat'ls

Legends Blue Skies Over Texas, (worked Ground Zero/SAR dog/some schutzhund training), in tact/never bred, awesome temperament

Legends in Your Wildest Dreams, (worked Ground Zero/SAR dog), neutered/never bred , shy/reserved, no temperament issues

Legends Blues Brother (Dani), neutered, deceased, never bred (thyroid/aggression problems - put down by his owner)

Legends Jetta's Gonna Fly (to our knowledge put down by her owner due to the fact Jetta didn't like children - WE TRIED TO BUY THIS BITCH BACK; THE OWNER REFUSED US)

Legends Staying the Nite "BeeGee", deceased (accidental - hit by a car along with her daughter), had two litters by two different studs (Brighteye Kennel), could be protective of those she loved
Legends "Myth", intact/never bred, in pet home, good temperament

Legends "Dr G", neutered/never bred, in SAR home
Due to the thyroid problems cropping up in the Chance cross, we highly recommend thyroid testing by laboratories listed on the OFA webpage (http://www.offa.org). We recommend testing prior to breeding any sire or bitch and also intermittently if one sees a change in personality, weight or coat. We clear thyroids on our breeding stock. We thank those buyers above who cleared thyroids and reported back to us. Claugene's thyroid was cleared at age two and also at ages eight and nine and was normal each time tested.